FRIDAY, December 1   ǀ   5-9 PM
Join us for the final Art Walk of 2017!
On First Fridays from 5–9pm, art-centric businesses and arts venues in the Highlandtown Arts & Entertainment District stay open a little later than usual to play host to a self-guided walking tour of our neighborhood shops, galleries, landmarks and murals. Neighbors and visitors are encouraged to visit multiple sites and venues, many of which will feature light refreshments, special discounts, demonstrations and live music.
Below is a map and list of December's venues and details:

PEAK Performance Training
512 S. Conkling St
Join us for our Holiday Happy Hour! (6-10pm)
After the Grand Tree Lighting & Highlandtown Train Garden Opening join us for a holiday cocktail and music by The Herd Brothers 🎶
Winecream will be serving delicious, boozy, holiday treats!
This is the closing reception the Street Sign Art Show 'Decompression' by Mowgli Art.
Rust-N-Shine SPECIAL OPENING!
410 S. Conkling St
Take a peek into Highlandtown's one-of-a-kind market featuring vintage & retro items and handmade treasures.
ONE WEEKEND ONLY!
(And then stay tuned for our official Grand re-opening this spring.)
Fri. Dec 1: 5-9pm
Sat. Dec 2 & Sun. Dec 3: 11am-5pm
NEW! Colby's Clothesmobile Garage
3522-A Gough St (entrance on Conkling St)
Colby's Clothesmobile moves her mobile unit into a stationary shop in Highlandtown! Featuring men and women's vintage clothing and accessories.
Artwork on display by Adam Estes. Homemade sangria will be served!
Y:ART Gallery & Fine Gifts
3402 Gough St
Awarded 2017 "Baltimore's Best East Side Art Space" by Baltimore Magazine
On View "The Miniature Show," perfect for the gift giving season!
Jewelry Demonstration by – Donna Reinsel, showing her amazing agility with sterling and steel!
Live Music by The "Genuine Pendletons" They comprise Peter Pendleton (upright bass) and Rachael Erichsen (accordion, vocals). Classically trained, yet lovers of improvisation, their warm acoustic interpretations of folk tunes, jazz and rock will envelop you like a cozy blanket.
Festive Holiday Refreshments also served.
Highlandtown Gallery & Zwiebach Creations Gallery
248 S. Conkling St
Holiday show and live music by The Shroom Pickers. Join us for Biscotti and eggnog to celebrate the holidays!
Night Owl Gallery
248 S. Conkling St, Unit C
On display: "Postcards from The Enchantments," a series of plein air works created across the United States.
Snacks and refreshments from 5-9pm
10% Off All Beth-Ann Wilson Originals
15% off All Framed Prints
$9 18″ x 24″ color-shift Natty van Gogh prints!
The Laughing Pint
3531 Gough St
$5 greyhound drink special & kitchen is open until 10:30pm.
RoofTop Hot
339 S. Conkling St
Art Walk 5:00-8:00
Featuring works by Mervin Ruiz.
Docs Smoke Shop
3721 Eastern Ave
Docs is a family business in Highlandtown since 1979. They have a great selection functional glass art and pendants from American artists across the country. Give the gift they will appreciate!
Snake Hill Tavern
418 S. Clinton St
"Friend of Kaa"
New Works by Mowgli
Opening Reception Friday December 1 from 6 – 8
Happy Hour until 7 / Food Specials until 11
Creative Alliance
3134 Eastern Ave
Amalie Rothschild Gallery: "Erin Fostel: A Measure of Place"
8pm in the Theater: Caleb Stine's Round the Mountain [$25, $23 members (+3 at the door)]
Yellow Arrow Publishing
Breath of God Church at 141 S. Clinton St
Enjoy live readings by local writers and poets. A variety of genres will be represented in 15 minute segments between 7-8pm. Feel free to listen to one or all. Open mic sign-ups as time permits.
From 8-9pm we will host our first writer's group, a space to commiserate with fellow writers on a focused topic. The parallel goal is to connect writers with accountability partners.
Light beverages and snacks provided. Come out and support independent publishing. For the evening's schedule and listing of writers visit YellowArrowPublishing.com. 
Maxine Taylor of MAXgallery at Ideals of Highlandtown
3319 Eastern Ave
Maxine Taylor showcases her work at this locally-owned Highlandtown business. Light refreshments served.
SPECIAL EVENING EVENTS ALSO INCLUDE
Fundraiser for Puerto Rico at Carlos O' Charlies
3508 Eastern Ave
6:30-8:30pm [tix $25]
For a donation $25 you will enjoy dinner and live Salsa band AND help kids and families affected by Hurricane Maria in Puerto Rico.
-Fundraiser coordinated by HOLEA (Hispanic Officers of Law Enforcement Association) and HOLA Baltimore (Hispanic Organization For Leadership Advancement)
* * * * * * * * * * * * * * * * * * * * * * * * * * * * * *
Art Walk After Party at the UN Social Club!
201 S. Eaton St (entrance on Pratt St)
9pm-2pm After dance party…Salsa & Bachata!
$2 Natty Boh & National Light
$3 Wine
Presented by Highlandtown Arts & Entertainment District in partnership with Highlandtown Main Street.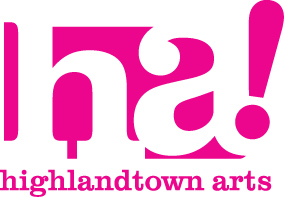 Highlandtown is a designated Arts & Entertainment District. For more information visit Highlandtown Arts & Entertainment District